By MAIKO KOBAYASHI/ Staff Writer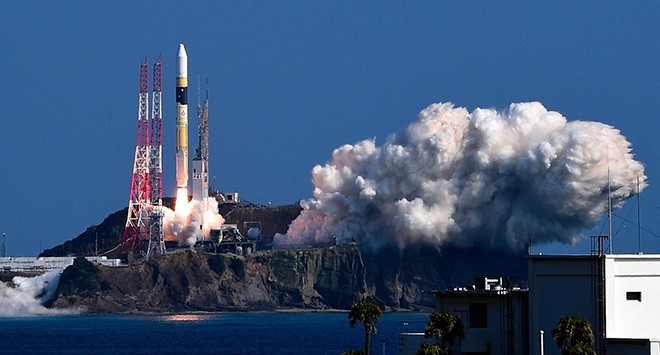 The H2A No.41 rocket, carrying the information-gathering satellite Optical 7, lifts off at the Tanegashima Space Center in Kagoshima Prefecture on the morning of Feb. 9. (Motoki Nagasawa)
TANEGASHIMA ISLAND, Kagoshima Prefecture--The H2A No. 41 rocket was successfully launched from the Tanegashima Space Center on Feb. 9, putting an information gathering satellite in orbit 20 minutes later, according to Mitsubishi Heavy Industries Ltd.
The successful liftoff of the H2A rocket marked the 35th in a row, raising the success rate of Japan's workhorse launch vehicle to 97.6 percent.
In the new fiscal year starting from April, Mitsubishi Heavy expects to introduce the H3 rocket, the successor to the flagship H2A.
The IGS-Optical 7 satellite is tasked with shooting images of the surface of the Earth with telescopic cameras.
It will replace the IGS-Optical 5, which was introduced in 2015, as the predecessor's five-year design lifespan will end this year.
According to the government's Cabinet Satellite Intelligence Center, the development of the IGS-Optical 7 cost about 30 billion yen ($272.3 million).
Along with three other satellites, including radar satellites, it will become possible to shoot an image of any location on the Earth at least once a day.
Japan began operating reconnaissance satellites after North Korea tested a Taepodong ballistic missile in 1998.
Those satellites also showed images of Japanese regions hard hit by typhoons last fall.